Justin Lawrence from Oklahoma Shirt Company is determined to push the entire screen printing industry forward. But first, he's going to get a tattoo.
After an amazing 2019, Justin sat down at Ryonet's free tattoo booth at Impressions Expo 2020 in Long Beach, CA. The design? An eagle holding a squeegee. Tattooed across his ankle. When you spy Justin Lawrence trapped on a tattoo table, you take the chance to interview him!
A major player in SGIA's push to modernize and connect screen printers across the industry, Justin's affable personality and relentlessly positive outlook are a real asset to the entire community.
Our interviews at Impressions Expo 2020 follow a simple rule: ask everyone in the screen printing industry the same set of questions. That's how to learn what the real trends are.
"We don't fight for the lowest price. It's not about the cheapest product we can offer. It's about the relationship with the customer."
Justin looks back on his career, reflecting on what he wish he'd known (financial planning), growing carefully, saying no at the right times, and even explaining why his automated screen reclaiming machine is going to make an employee's life much better.
---
Ten questions with Justin Lawrence from Oklahoma Shirt Company at Impressions Expo 2020
Why you'd want to hear from Justin Lawrence about screen printing:

Justin runs a multimillion-dollar screen printing business, Oklahoma Shirt Company. He started the business as a subscription shirt company. Now the Oklahoma Shirt Company team prints for Oklahoma's biggest clients, employs dozens of people, and runs one of Oklahoma City's most exciting businesses.
Editor's note: Want a laugh? Justin braved the Ryonet ice bath challenge and emerged mostly victorious.
How have you found new customers for screen printing in the past year?
Justin says, "We're going industry-specific. What can we do to get electrical contractors or plumbers?" They're looking to develop deep relationships with local niches that need printing services.
Intentional, targeted sales: Oklahoma Shirt Company is looking for the right clients (this is a theme in the industry at large for 2020)
More metrics and tracking for sales: Are the sales efforts paying off?
Justin's team, big picture, are looking to target the specific types of customers that will fit Oklahoma Shirt Company perfectly.
How do you think screen print shops can differentiate themselves?
"We make friends. We do cool things," Justin says. He points out that customer retention is less about prices or prints and more about building a real connection with clients – so that they want to come back to your shop.
That isn't to say that Oklahoma Shirt Company is against price matching. But they're not about being the cheapest screen printing business.
Your screen printing pricing isn't a sales or retention tool – it's how you feed your business and pay your employees.
What do you wish you had known when you started screen printing?
"I wish I had known more about financial planning and vision," Justin says. It's true – you have to turn a profit in screen printing (or any business, for that matter).
He describes the challenging entrepreneurial cash-flow cycle – having lots of money, running out, and then wishing you had managed the money better during good times.
"Growing is fun, but growing is hard. I wouldn't have grown as fast. I would have said no to more things and been more focused on our efforts," Justin concludes.
What's your favorite piece of screen printing equipment in your shop right now?
Justin just invested in a Lotus Holland automatic screen reclaimer. That means he's automating one of the worst jobs in a screen printing shop: the loud, dirty, difficult, repetitive task of reclaiming used screens.
While this job isn't one that everyone wants – it's one of the most important tasks in a screen printing business. And now Oklahoma Shirt Company's star screen reclaimer, Maury, is about to see his job get a lot better.
"Our buddy Maury won't go home wet, covered in ink...he already took a lot of pride in his work, so for someone as awesome as Maury, it's easy to upgrade our equipment. Definitely the biggest win of the year," Justin says.
What's the biggest challenge this year for your screen printing business?
With 6 automatic presses and a growing staff, Justin says, "We will have to dabble more in contract printing this year."
While Justin doesn't want to run the presses just to keep them running, he's looking for contract customers that suit his business and can keep their shop's utilization high.
What's most exciting about the screen printing industry in 2020?
Justin is part of SGIA's Garment Decorators Committee (alongside another Printavo power user, Dominic Rosacci from Superior Ink in Denver).
"You get to be a part of the industry and contribute with a group of people that truly care, who are trying to do better and more sustainable things," Justin says. SGIA is focused on providing small business owners with some incredible resources to grow their businesses – if you're not already a member or don't know about SGIA, please check them out!
Editor's note: we can't emphasize enough how great SGIA is. Seriously consider joining SGIA if you want to up your game this year.
As a screen printing business owner, what scares you? What keeps you up at night?
"These are peoples' lives! Cash flow and payroll matter. Do we have the right health benefits? Are they being paid a fair wage?"
Justin is worried about the big picture. Not the prints, not the shirts, not even the customers – but the people at Oklahoma Shirt Company that propel the entire business forward.
"Screen printing is easy. But taking care of people and business in a responsible way is hard to do."
How are you planning to address higher labor costs and the ongoing worker shortage in the screen printing industry?
"Higher wages are scary for us in Oklahoma," Justin says. "The $15 minimum wage would be really hard for our industry, but at the end of the day people need a fair and livable wage."
Prices will have to go up. The industry will be further squeezed, which is nerve-wracking given the thin margins and dependence on wholesalers for garments and raw materials. Garage shops will have a hard time keeping up.
"That will be scary, but I'm not afraid to walk through it," Justin says. "People will need t-shirts, and jobs. We will figure it out."
What's the hardest part of running a screen printing business? What's the best part?
Justin's favorite part: He gets to choose what he's going to do each day. "There are as many opportunities as there are distractions, and deciding what to do each day is one of the really fun things."
The hardest part? It's doing the right things for your staff. Justin is always candid about how hard managing people is, and he's honest about the stakes. "These are peoples' lives!"
What's your favorite resource for learning more and connecting with the screen printing industry?
Justin says you have to go to trade shows and industry events like ThreadX and PrintHustlers Conf. "People are doing reallly cool things in this space. It's wide and deep. You have the ability to talk to anyone – just reach out to shops that are doing something cool," Justin says. "We're all within reach, we all need access."
Retreats and other business-specific events galvanize the relationships you have with other screen printers. Justin shares a Slack channel with other shop owners, always has an email or text chain open, and is constantly asking and answering questions.
In short: Justin's favorite resource are the friends he's made along the way.
Ending on a positive note: what's the biggest win or best memory from the last year?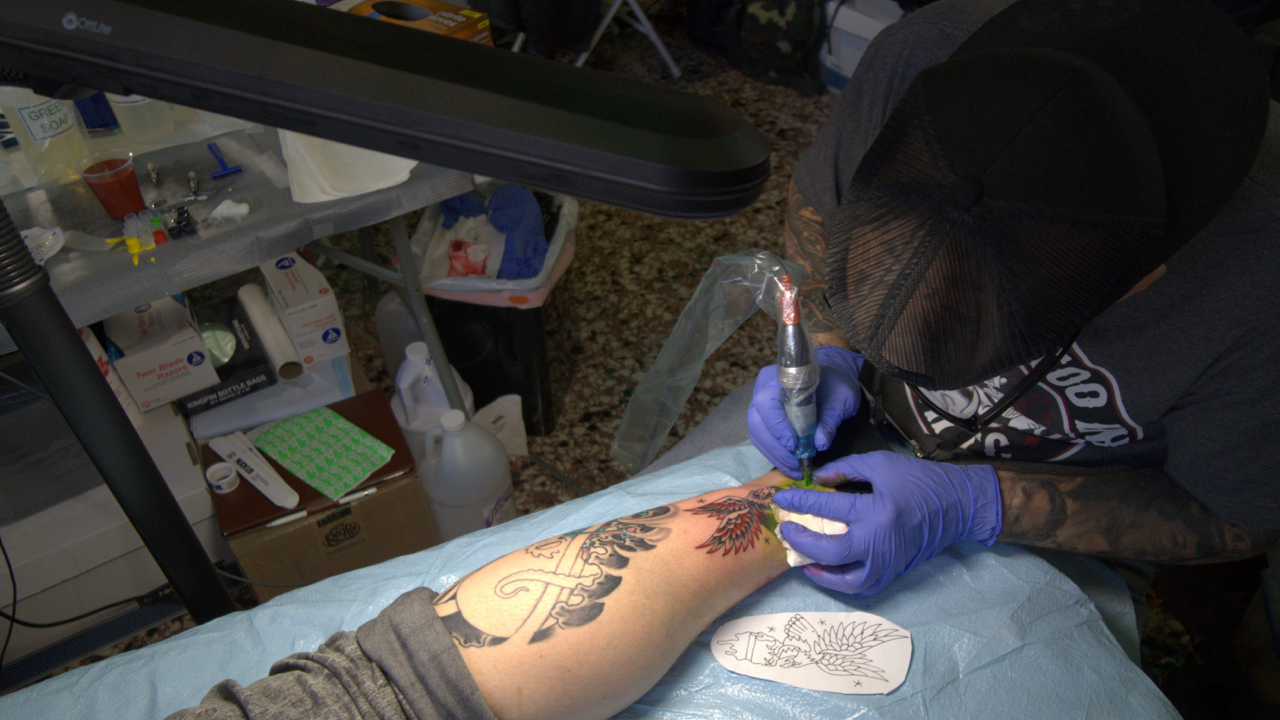 Oklahoma Shirt Company got to print the Oklahoma Thunder's playoff shirts. Every chair in the arena had an Oklahoma Shirt Company shirt on it!
That turned out to be an unforgettable highlight for 2019 – the biggest screen printing job in Oklahoma City, printed in-house on a tight deadline for the city's biggest audience.
"We got to print for the Thunder this year, we printed 26,000 shirts in 36 hours...twice. If our boys keep it together, we'll go to the playoffs again. It's such a cool big win for company."
That's a huge victory, a ton of t-shirts, a lot of work – and a great way to cap off 2019!
---
Join Printavo's amazing community (and Justin Lawrence) at PrintHustlers Conf 2020, an elite conference for the best and brightest in the custom apparel industry. Now in its fourth year, PrintHustlers Conf has brought shops from across the world (even Nigeria!) for two days of incredible presentations, seminars, and relationship building. Justin is an original Printavo user – and he's been to every PrintHustlers Conf so far!
If you want to meet the industry's biggest players, learn from the best, and have a blast at an incredible venue with truly inspiring people, then Printavo's 2020 PrintHustlers Conf is where you want to be.
Where: Ace Hotel in Chicago
When: July 24-25, just after the ASI Chicago show.
What: A gathering of the industry's finest for candid discussions and solution building (and some fun, too)
Curious to see what PrintHustlers Conf is like? Check out PrintHustlers Conf 2019 on YouTube with last year's presentations and breakout sessions or read our in-depth recap of PrintHustlers 2019. Also, we owe a huge thanks to Ryonet, Allmade, M&R, Next Level Apparel, Supacolor, and Clubhouse Athletic for sponsoring PrintHustlers Conf 2019.
Note: Tickets are selling faster this year than they were last year. We sold out nearly 45 days before the conference last year!